>Talk to green guy without legs in the lower right corner.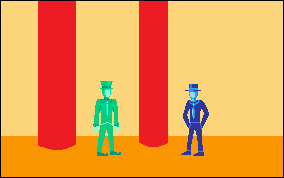 He does have legs, but they were invisible due to the SCREEN BORDER. Either way! That gentleman is... you don't know who he is. You notice he is also equiped with TWO CLOCKS. Perhaps he is a new pro gambler? Who knows! You decide to talk with him.
Since you didn't complete your CONVERSATION, there is still time left for another one!
>Study Orange Man in Purple Suit on Floor 2, he might be arch-fiend Lord Copper in disguise.
Sadly, you cannot go to FLOOR 2, because there are 2 RUDE GENTLEMAN in front of the RAMP that leads there.
>Failing that, talk to Zorro.
You mistake this GENTLEMAN for ZORRO because his sprite was too zoomed out and his SHADES looked like a ZORRO MASK.
He doesn't seem like a very nice person. You would ask him something, but you don't know what! What should you ask him?