>Marry with your DESK
You marry your DESK. You proceed to live the rest of your LIFE regretting that you married with a bunch of wood.
GAME OVER
TRY AGAIN
>Equip JOSEPH'S TECHNICOLOR COAT to become immune to any sudden TECHNICOLOR LASER.
You forgot about this conveniant thing that was in the FOURTH WALL of your room! Made my a highly skilled tailor with the use of HIGHLY REFLECTIVE CLOTH to it's maximum extend, it reflects off any TECHNICOLOR LASER! You will only wear it whenever you find it appropriate, since it will lower your INVISIBLE STYLE METER.
JOSEPH'S TECHNICOLOR COAT ADDED TO INVENTORY
You also decide to bring the FAKE ARMS with you in case you need to CHEAT.
FAKE ARMS ADDED TO INVENTORY
You notice the time! There are 30 minuntes left in your INVISIBLE TIMER! Time to get going.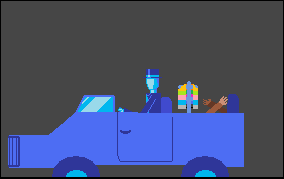 You put your stuff on your PIMPIN' CAR. On the way to the STILIT CASSINO, you will have time to think and reflect about any subject. What will you think about?