Alrighty, so you wanna make a sprite animation. First, you'll need an animation program. I recommend Animation Shop 3. You can download a free trial version from
Jasc's website.
For this tutorial, I'm using the
Quickman Wily Wars sheet
as my example. I'm gonna be making the Intro Pose:
Section One: Getting Your Frames Ready.
Open Animation Shop, and Open the sheet.
Select the set of frames you wanna use with the Crop tool.
Example
Once you've selected them, click the Crop button. Save that file As a seperate file. Trust me, you'll prolly need it later on if you hafta do this from scratch again, kinda like this tutorial.
Step 2:
Now comes the tedious and frustrating part. Again, using the Crop tool, seperate your frames, one by one.
To keep the animation from jumping around, make sure your frames are of equal size.
Save each frame As a seperate file. Then, Edit-Undo your way back to your frameset.
Repeat those steps for each frame.
Section Two: Organizing your Animation
Open all your frames and set 'em up in some order you can use:
Example
I've circled the First Frame, 'cause that's the frame you'll be putting your other frames into.
Step 2:
A: Select your Second Frame and Edit-Copy.
B: Select your first frame.
Do NOT Paste! Doing so will just paste your copied frame into a new window. Instead, do the following:
Edit:
Paste... After Current Frame
or
Shift+Ctrl+L
Select your third frame, and Edit-Copy (or Ctrl+C).
Select the Frame One window again and Paste After Current Frame.
Repeat for the remaining frames.
NOTE: To lessen the confusion, I close the Copied Frame after I paste it, that way I can keep track of my frames better.
Once you're done with the tedious Pasting, Frame One should look sorta like this:
Example
Section Three: Fine-Tuning Your Animation
View your Animation: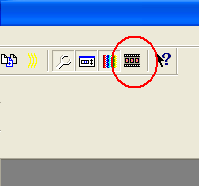 You'll notice that it moves super-fast. That can be fixed by editing the Frame Properties.
Go to "Animation" in the toolbar.
Select "Frame Properties"
A dialogue box will pop up.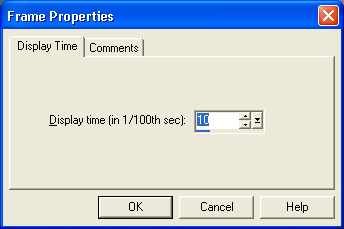 Edit the Display Time to your liking, and view your Animation. This may take a few tries 'fore your animation plays at the speed you want.
Step 2:
Once you got your frame duration figured out, go to Animation Properties (under Frame Properties.), and the following will display: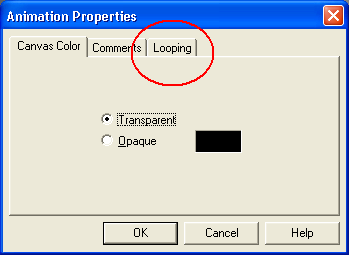 Click the "Looping" tab as indicated. The following will display: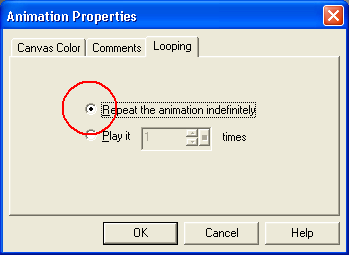 If it's not already selected (which it usually is), select the "Play animation indefinetly."
Now, save your Animation.
Your finished animation should look something like my example:
NOTE: I know my example has a chunk missing from his hand. I don't really care, it's just an example. ^^;